Boris Johnson has resigned as Conservative leader in the face of a mass exodus of Government ministers.
In a statement outside Number 10, he said the process of choosing a new leader "should begin now".
He intends to remain in No 10 until his successor is elected, but he faces resistance to that plan from within his own party and the Opposition.
Here are the latest developments in the downfall of Mr Johnson:
2.01pm
Here's how Mr Johnson made his announcement earlier this afternoon:
1.55pm
Tory MP Damian Green has given the clearest indication yet that Tom Tugendhat will run to replace Mr Johnson.
Mr Green, an old ally of former prime minister Theresa May, told Sky News he will be backing the chairman of the Foreign Affairs Committee in any leadership contest.
"I think we need a fresh start. And, in particular, we need to restore trust in government, not just in this Government or a Conservative government, but in the way we do government more widely. I think having somebody who's not in the Cabinet… I think that's an advantage."
Asked if Mr Tugendhat is definitely running, he said: "I hope so, otherwise I wouldn't be saying this. So, yes, I think you can, you can take it that Tom is going to run."
1.51pm
Journalist and broadcaster Piers Morgan, known for his forthright opinions, has unsurprisingly had his say on Mr Johnson's speech.
1.46pm
Labour leader Sir Keir Starmer, who had called on Mr Johnson to step down and wants him to go now, has been pictured at Wimbledon with his wife Victoria.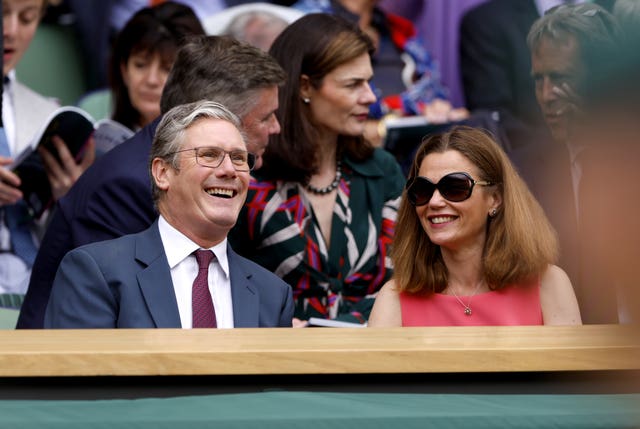 1.43pm
Some MPs and well-wishers gathered in Downing Street to hear the Prime Minister speak outside No 10.
1.41pm
Ireland's Foreign Affairs Minister said the Irish Government "stands ready" to work with a new British prime minister.
Simon Coveney tweeted: "The Irish government stands ready to work with a new UK PM on protecting our shared achievements in the peace process and our shared responsibility under international law on Brexit.
"Let's start with getting a government in Stormont. I wish Boris Johnson and his family well."
1.30pm
Theresa May's premiership was also beset by a string of ministerial departures.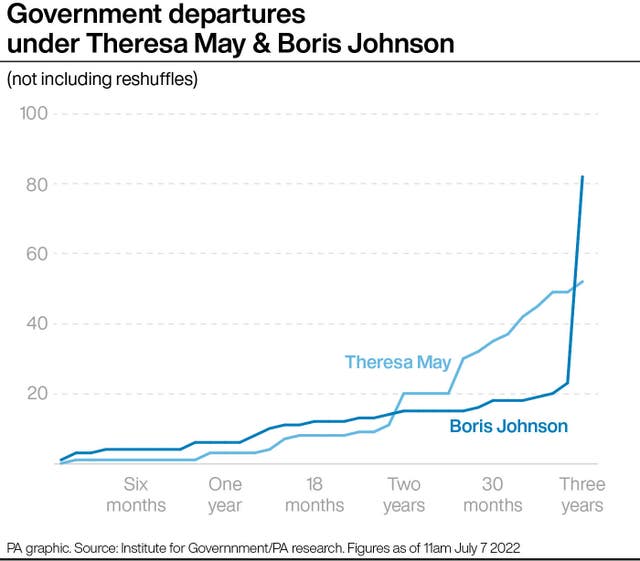 1.25pm
Theresa May was asked if she would be prepared to act as a caretaker prime minister following Boris Johnson's resignation.
But the former PM said: "I don't think there's going to be a caretaker prime minister in the sense of somebody else coming into that role."
After making a speech in London, Mrs May was also asked what she wants to see in a new PM.
She said: "I would want to see somebody who wants to concentrate on healing division, who wants to unite the country and unite the party.
"This is so important going forward.
"I am concerned when I look at some other countries and the polarisation of politics in the United States, for example.
"I think that we need to ensure that we avoid going down that very polarised route of politics and society."
1.20pm
Boris Johnson paid tribute to his family and supporters during his resignation speech, watched by his wife Carrie – who had their daughter Romy with her.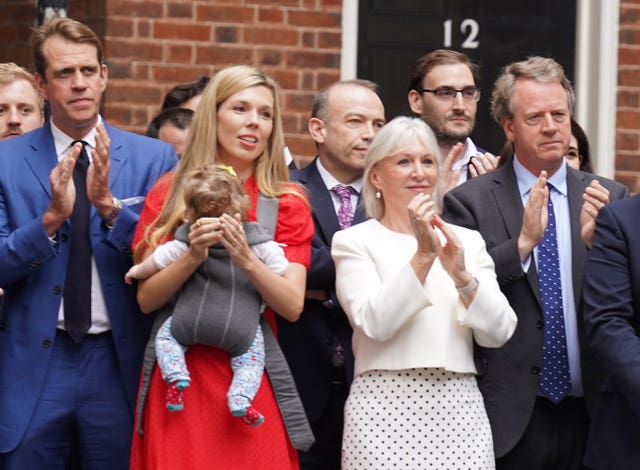 1.15pm
Boris Johnson's successor as Tory leader and Prime Minister faces significant challenges, taking the helm as the UK is engulfed in a cost-of-living crisis which has the potential to plunge the economy into recession, and a gloomy international picture as Russian's brutal invasion of Ukraine continues.
Closer to home, they will have to reunite a fractured Conservative Party and attempt to rebuild support among voters.
1.10pm
The likely candidates to replace Boris Johnson:
1.05pm
Potential contenders for the Tory leadership have called for the party to reunite following Boris Johnson's resignation.
Foreign Secretary Liz Truss, seen as a leading contender in the race to replace him, said the party now needs "unity".
She tweeted: "The PM has made the right decision.
"The Government under Boris's leadership had many achievements – delivering Brexit, vaccines and backing Ukraine.
"We need calmness and unity now and to keep governing while a new leader is found."
Tom Tugendhat said the party needs a "clean start".
He tweeted: "Right call by Boris Johnson to resign. Delivered Brexit, rolled out the vaccine and led on Ukraine.
"Now we need a clean start."
1pm
An adviser to the Office of Ukrainian President Volodymyr Zelensky thanked Boris Johnson for his support for the country in the face of Russian aggression.
Mykhailo Podolyak tweeted: "To be a leader – to call Russian evil an evil and to take responsibility in the hardest times. To be a leader – to be the first to arrive in Kyiv, despite missile attacks.
"Thanks Boris Johnson for realising the threat of Russian monster and always being at the forefront of supporting Ukraine."
In a video posted with the tweet, Mr Podolyak spoke to the camera and added: "Today we have everything we need for the effective defence of the country: weapons, partnership and coalition, and thanks to Mr Johnson, we understand that victory is a real symbol of the future in Ukraine… we are extremely grateful to our partners, Mr Johnson, for the opportunity to do our work effectively."
12.55pm
Boris Johnson vowed to support the next leader, as he acknowledged some people will be "relieved" to see him go.
He said his successor's priorities will be "helping families to get through… cutting burdens on businesses and families, and, yes, cutting taxes because that is the way to generate the growth and the income we need to pay the great public services".
He added: "To that new leader, whoever he or she may be, I say: 'I will give you as much support as I can'."
He thanked his wife and family "who have had to put up with so much for so long", and he also thanked the "peerless British civil service" and the "fantastic NHS" who "helped to extend my own period in office".
He said it had been an "immense privilege" to serve as Prime Minister, and he thanked the British public as he concluded his speech.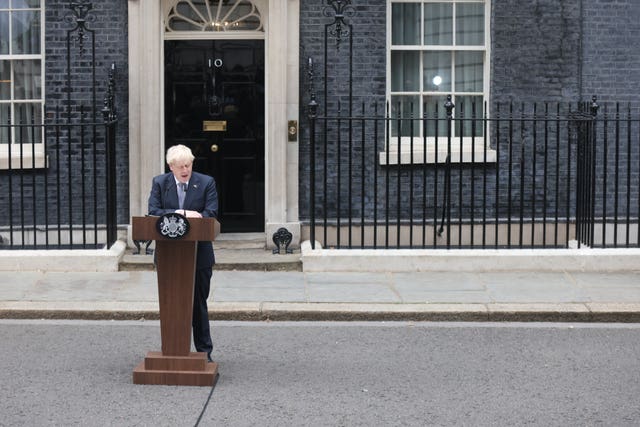 12.53pm
Addressing the people of Ukraine, Boris Johnson said "we in the UK will continue to back your fight for freedom for as long as it takes".
At home, he said "we've been pushing forward a vast programme of investment in infrastructure and skills and technology, the biggest in a century".
He added: "Because if I have one insight into human beings, it is that genius and talent and enthusiasm and imagination are evenly distributed throughout the population, but opportunity is not, and that's why we must keep levelling up, keep unleashing the potential of every part of the United Kingdom.
"If we can do that in this country, we will be the most prosperous in Europe."
12.50pm
Boris Johnson's tumultuous time in office:
12.45pm
Mr Johnson thanked Tory voters for their support, saying: "I want to say to the millions of people who voted for us in 2019, many of them voting Conservative for the first time, thank-you for that incredible mandate, the biggest Conservative majority since 1987, the biggest share of the vote since 1979."
12.38pm
Mr Johnson said he had tried to persuade his Cabinet it would be "eccentric" to change Prime Minister now, but "I regret not to have been successful in those arguments".
He acknowledged that "in politics, no-one is remotely indispensable".
12.35pm
Boris Johnson said he is "immensely proud of the achievements of this Government", from getting Brexit done to getting the UK through the pandemic, and leading the West in standing up to Vladimir Putin's aggression in Ukraine.
He added: "I want you to know how sad I am to be giving up the best job in the world, but them's the breaks."
12.30pm
In his address to the nation, Boris Johnson said "the process of choosing a new leader should begin now", and that he will continue to serve until his successor is in place.
He thanked voters who secured the Conservative majority in 2019, and said he had fought over the past few days to continue in his post "because I felt it was my job, my duty, my obligation to you".
12.25pm
A lectern has been set up outside 10 Downing Street and staff are assembling outside Number 11 ahead of Boris Johnson's statement.
Speakers have been put out so the throng of press gathered opposite can hear him.
12.20pm
With all eyes on Number 10 as the minutes tick down to the Prime Minister's statement in which he will confirm his resignation, Downing Street continued to fill the gaps in the ministerial team.
The latest appointment was Andrew Stephenson as minister without portfolio, who will attend Cabinet.
12.15pm
Shailesh Vara has been appointed Secretary of State for Northern Ireland, Downing Street said.
It came hours after Brandon Lewis quit the post, joining the ranks of Conservative ministers leaving office in a move against Boris Johnson.
His resignation had been condemned by Sinn Fein Stormont leader Michelle O'Neill, who claimed Mr Lewis had "abandoned any pretence of acting with the 'rigorous impartiality' required of him under the Good Friday Agreement".
She added: "He has shamefully placated the DUP by giving them political cover in denying the electorate the democratic representation they are entitled to."
The Stormont Assembly remains collapsed amid a row over the Northern Ireland Protocol.
The DUP is refusing to nominate ministers to the Executive or a speaker to allow the Assembly to function until the UK Government takes action on the post-Brexit arrangements.
12.05pm
Boris Johnson is expected to address the nation at 12.30pm.
12pm
Downing Street has appointed Robert Buckland as Welsh Secretary.
11.55am
Despite finally bowing to pressure and resigning as Tory leader, it seems Boris Johnson now faces a battle to continue on as Prime Minister until his successor is chosen by the party.
Labour leader Sir Keir Starmer said Mr Johnson "can't cling on" and must be removed immediately.
He threatened to use a Commons vote of no confidence procedure to attempt to oust the Prime Minister unless he hands over the reins to another premier.
Sir Keir told reporters in Westminster: "He needs to go completely. None of this nonsense about clinging on for a few months.
"He's inflicted lies, fraud and chaos in the country.
"We're stuck with a Government which isn't functioning in the middle of a cost-of-living crisis.
"And all of those that have been propping him up should be utterly ashamed of themselves."
Liberal Democrat leader Sir Ed Davey agreed, saying Mr Johnson should resign as Prime Minister today.
He told the BBC: "It is quite possible to have an interim Government, there is a Deputy Prime Minister, there could be an interim Cabinet appointed."
11.50am
James Cleverly has been appointed Education Secretary, following the resignation of Michelle Donelan after less than two days in the role.
Meanwhile, Ms Donelan has said she will donate the almost £17,000 she is entitled to in redundancy pay to charity.
11.42am
Downing Street has announced a series of appointments to Government, including Greg Clark as Levelling Up Secretary, replacing Michael Gove.
Kit Malthouse is now Chancellor of the Duchy of Lancaster, the most senior minister in the Cabinet Office after the Prime Minister.